Born in Manresa in 1959, Ramon Escalé is a conductor, pianist, composer and arranger with a long career. 
He has collaborated on several occasions in different musical fields, as far as gospel is concerned with artists such as Donald Lawrence, Smokie Norful, Daniel Thomas, Linda Tillery & the Cultural Heritage Choir, Andrea Encinas, Isaac Cates, Lurine Cato, Trey McLaughlin and The Sounds of Zamar, Safari Children's Choir, Monica Bernassola, Jason Taylor and Rosemary Cosby; in relation to Latin jazz he has collaborated with Barcelona Big Latin Band & Chucho Valdés, Omara Portuondo, Paquito d'Rivera, Jerry González, Lucrecia, Telva Rojas, José Luís Cortés "El Tosco"; and in other styles he has also collaborated with Raimon, Txarango, La Locomotora Negra, Dagoll Dagom, Big Mama, Jordi Molina, La Vella Dixieland, Paula Domínguez, Banda Municipal de Bilbao, Els Comediants and Camerata Bacasis.
He created the shows Gospel meets Latin with London Community Gospel Choir, Messengers and Barcelona Big Latin Band, Indians música d'anada i tornada with Camerata Bacasis, RE Latin trio and Marta Riera; Gospel meets Flamenco with Paula Domínguez, Be Here Now. George Harrison Tribute with Messengers, Gospel, Músiques de l'ànima with the Banda Municipal de Barcelona (dir: José Rafael Pascual-Vilaplana) & Bcn Gospel Messengers, Go Higher! and Dance! Messengers sing Motown with Messengers, Pavana Club with Barcelona Big Latin Band, From roots to Heaven and From the Heart of heart with Esclat Gospel Singers.
During his career he has delivered nearly 300 workshops, mostly in Catalonia but also in Menorca, Madrid, Seville, Mallorca, Burgos, Valencia, Miranda de Ebro, Bilbao, Barakaldo, Getxo, Portugalete, Plentzia, Ibiza, Tenerife, Pamplona, also in France, Italy, Switzerland, Sardinia, England, Kenya and Uganda, which have allowed him to experiment and mature a specific pedagogy to transmit all the energy of gospel, adapting it to the sonority and idiosyncrasy of European choirs and singers. 
It is also thanks to the association with entities and foundations such as British Gospel Arts (London) and Music Mission Trips (USA) that he has been able to deepen in the spirituality, styles and techniques characteristic of gospel.
He currently conducts Barcelona Gospel Messengers, Esclat Gospel Singers (Manresa), Goizargi Gospel Choir (Euskadi) and Cor Gospel del Conservatori del Liceu (Barcelona). He has been the founder and director of Messengers Gospel College (Barcelona, 2014-2019), Izar Gospel Unity (Euskadi, 2019-2021), Arteta Gospel School (Barakaldo, 2017-2019), Escola de Gospel del Taller de Músics de Barcelona (2010-2014) and choir teacher at the Conservatori Superior del Liceu de Barcelona (2006-2019).
He is the producer and director of the One Heart Festival (1st edition 2019, 2nd edition 2022, 3rd edition 2023) and musical director of the Campus Gospel Rajadell in its 16 previous editions.
In his own words, Escalé says: "I am a musician, in the broadest sense of the word, I feel I am a musician, specializing in diversity, although I have finally found a music charged with spirituality, Gospel, which fulfills my musical and personal concerns. My wish is to bring it closer to everyone, to help project its universal message and to help to assume the essential role of music in our lives, not only as passive consumers but as 100% active elements".
Awards:
Jazz Musicians Association Award 2001. Best Big Band conductor.
Jazz Musicians Association Award 2002. Best Big Band Conductor. 
Enderrock Award Best Jazz Album 2013 "Pavana Club" Barcelona Big Latin Band.  
Enderrock Award Best Jazz Album 2017 "Be Here Now: George Harrison Tribute" Barcelona Gospel Messengers.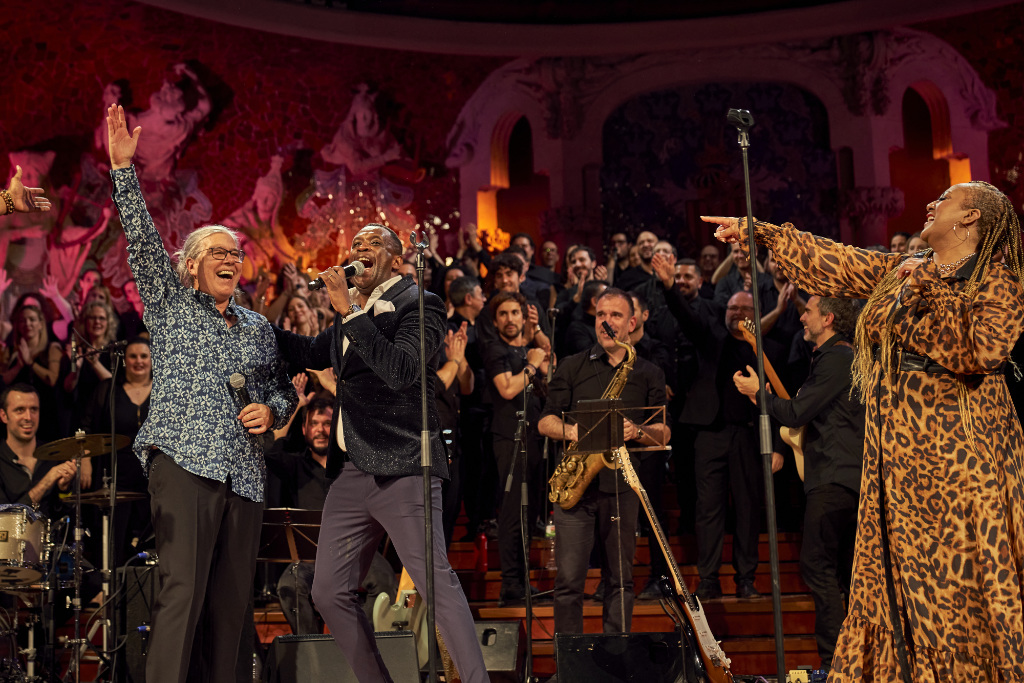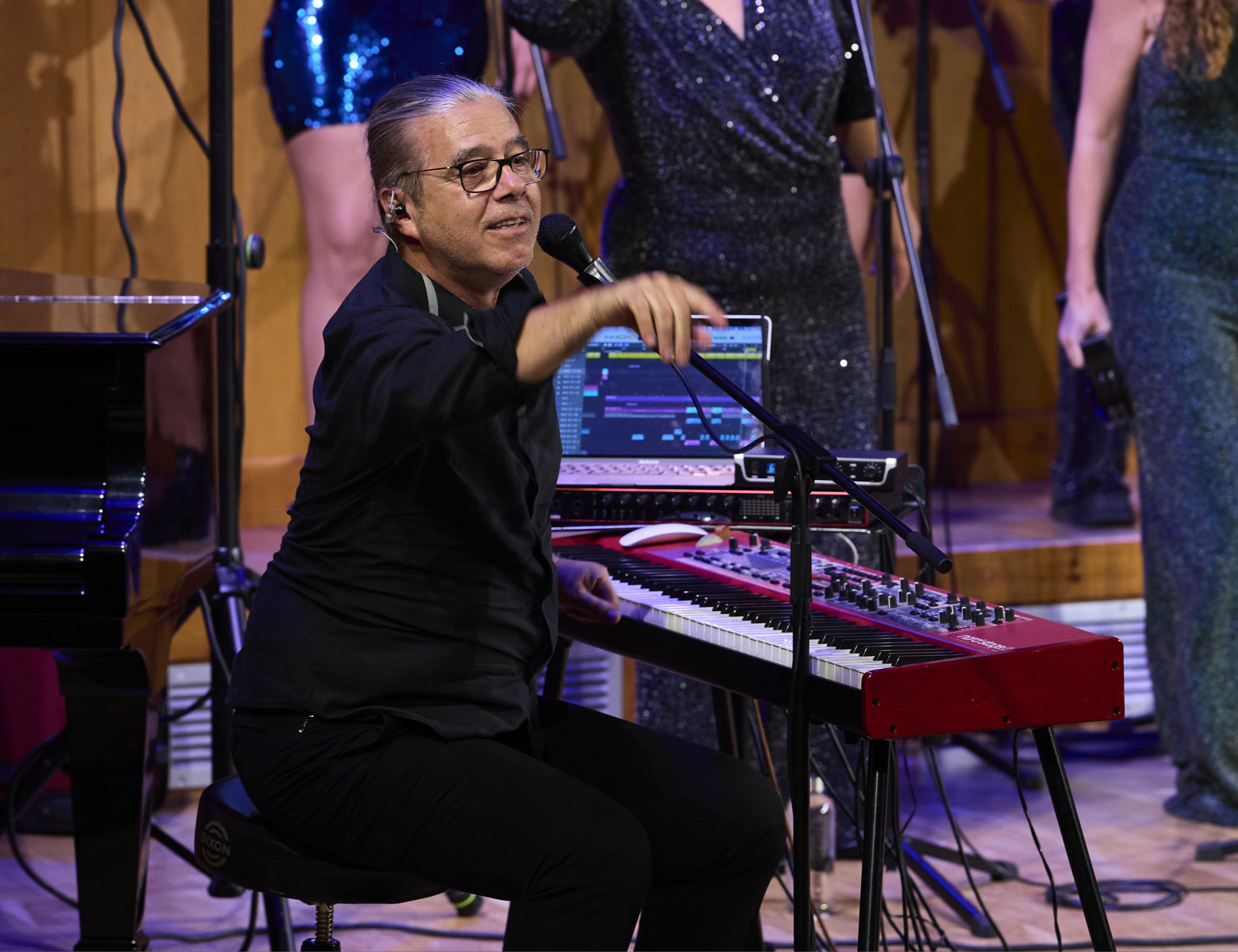 Esclat Gospel Singers was founded in Manresa in January 2000 by Ramon Escalé, pianist and composer, from the experience acquired in the gospel world in his musical collaboration with the Afro-American singers such as Monica Green, Michelle Mcain and Kathy Autrey. He was proposed to create and conduct a gospel choir as at the Esclat music school in Manresa city.
The news spreads among the different musical circles and in a few weeks the choir had more than 40 members. The good results of the work carried out confirmed with the first contracts. Soon the choir was constituted as an independent entity from the music school, although it kept its name. From the beginning, the strength of music reaching the public, but also the choir, led to spectacular live performances filled with energy, enthusiasm and complicity with the audience. 
Since its formation, EGS has staged several shows: Gospel & Spirituals (2002), the original musicals Plaça Reial (2003) with the Big Band of the Unió Musical del Bages and Stromboli (2007), Gospel Machine (2004, artistic director Àngels Sánchez), From Roots to Heaven (2008, with Big Mama), That old Spiritual (2010), Tribute to Bob Marley (2013), The New Gospel Machine (2014), From the Heart of Africa (2016) with the Barcelona Big Latin Band (recorded live).
Since 2005, EGS organizes the Rajadell Gospel Campus and participates in it, except during the period that the pandemic lasted. It is also part both artistically and organizationally of the One Heart Festival, in Barcelona. After a long career of 23 years on stage and with a more than consolidated campus behind them, Esclat Gospel Singers is today one of the leading gospel choirs on the Catalan scene.
After going through the roots of gospel and its most classical tradition until reaching the recent contemporary gospel, evolved by the hand of great names like Kirk Franklin, Joshua's Troop, James Moore and many others, in this edition we present a new show inspired by modern African composers like Lokua Kanza, Gerald Toto or Richard Bona, where West African rhythms are mixed with vocal harmonies influenced by American pop, jazz, soul and R&B.